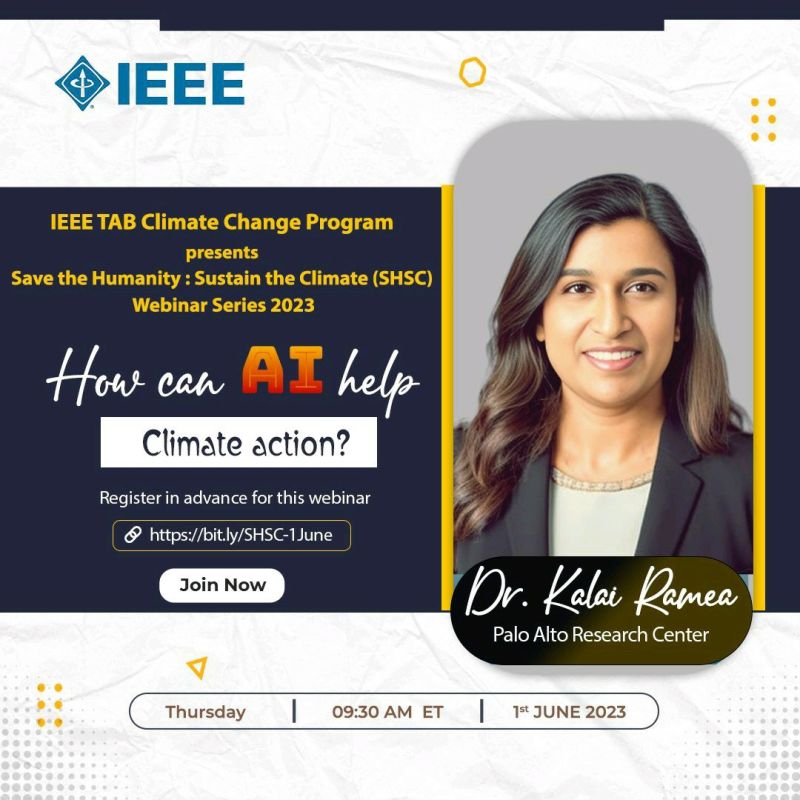 𝐇𝐨𝐰 𝐜𝐚𝐧 𝐀𝐈 𝐡𝐞𝐥𝐩 𝐂𝐥𝐢𝐦𝐚𝐭𝐞 𝐀𝐜𝐭𝐢𝐨𝐧?
✨"Artificial intelligence is not a replacement for human intelligence, but a powerful tool that amplifies our capacity to understand, solve, and shape a better world."✨
𝗗𝗼 𝘆𝗼𝘂 𝘁𝗵𝗶𝗻𝗸 𝘁𝗵𝗮𝘁 𝗔𝗜 𝗰𝗮𝗻 𝗿𝘂𝗹𝗲 𝘁𝗵𝗲 𝘄𝗼𝗿𝗹𝗱?
𝐃𝐨 𝐲𝐨𝐮 𝐭𝐡𝐢𝐧𝐤 𝐀𝐈 𝐜𝐚𝐧 𝐡𝐞𝐥𝐩 𝐢𝐧 𝐜𝐥𝐢𝐦𝐚𝐭𝐞 𝐫𝐞𝐥𝐚𝐭𝐚𝐛𝐥𝐞??
Then,
Join us for an enlightening talk on the innovative power of artificial intelligence (AI) in combatting climate change. As the threat of our changing climate looms larger than ever, it's imperative that we explore new tools to mitigate its impact. AI emerges as a beacon of hope, revolutionizing our understanding and response to this complex crisis.
📌𝐓opic: 𝐇𝐨𝐰 𝐜𝐚𝐧 𝐀𝐈 𝐡𝐞𝐥𝐩 𝐂𝐥𝐢𝐦𝐚𝐭𝐞 𝐀𝐜𝐭𝐢𝐨𝐧?
Date : 1st June 2023 9.30 am ET
The eminent speaker for this wonderful topic is 𝘿𝙧. 𝙆𝙖𝙡𝙖𝙞 𝙍𝙖𝙢𝙚𝙖,an accomplished interdisciplinary scientist working in the intersection of artificial intelligence and science.
Register in advance for this webinar:
https://bit.ly/SHSC-1June OR via the direct Zoom link, (https://lnkd.in/gBTz_YG9)
After registering, you will receive a confirmation email containing information about joining the webinar.
Stay tuned for this wonderful session.💫🙌🏻