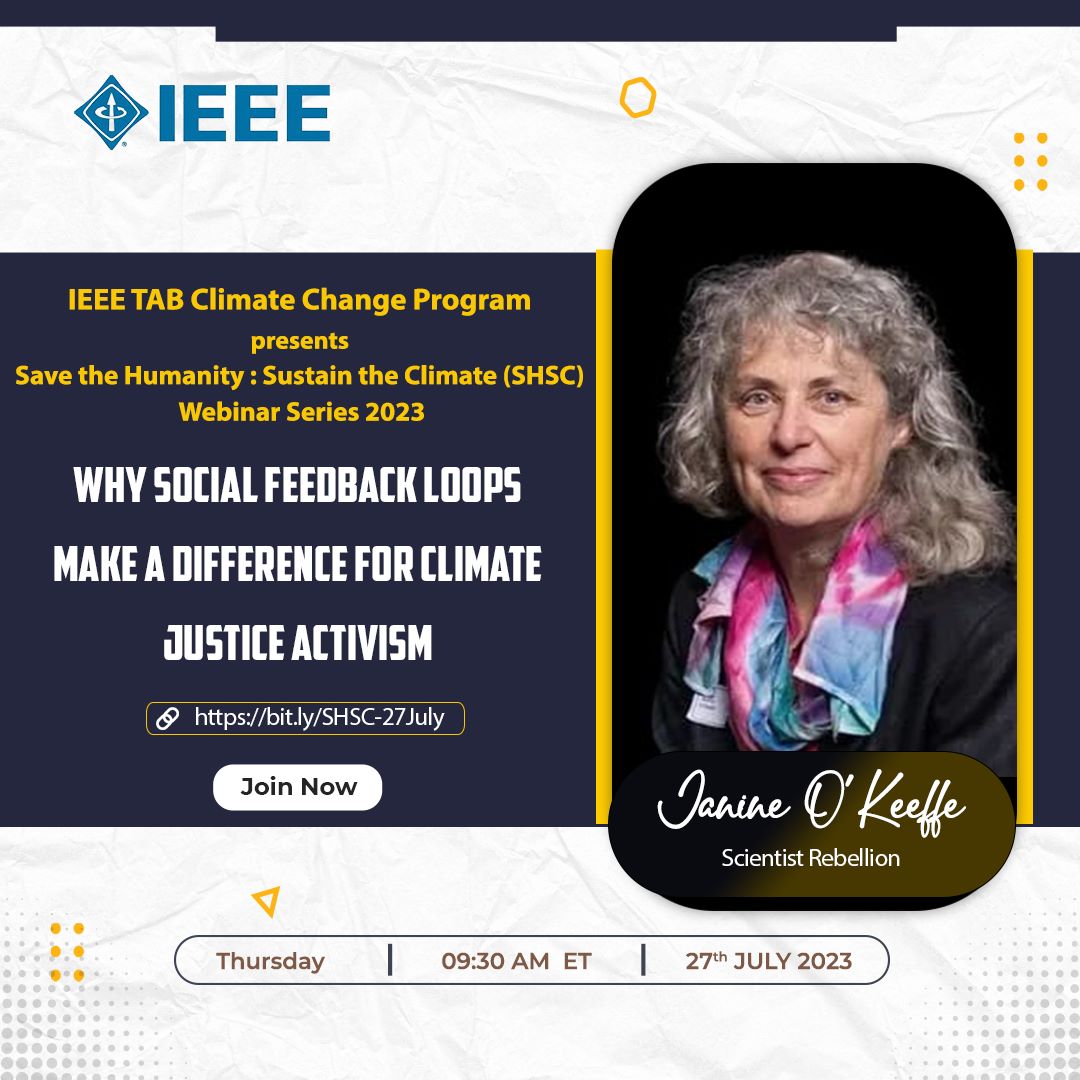 Talk on "𝗪𝗵𝘆 𝘀𝗼𝗰𝗶𝗮𝗹 𝗳𝗲𝗲𝗱𝗯𝗮𝗰𝗸 𝗹𝗼𝗼𝗽𝘀 𝗺𝗮𝗸𝗲 𝗮 𝗱𝗶𝗳𝗳𝗲𝗿𝗲𝗻𝗰𝗲 𝗳𝗼𝗿 𝗖𝗹𝗶𝗺𝗮𝘁𝗲 𝗝𝘂𝘀𝘁𝗶𝗰𝗲 𝗔𝗰𝘁𝗶𝘃𝗶𝘀𝗺."
Social feedback loops: Catalysts for climate justice activism's impact🔁🌱
𝗛𝗼𝘄 𝗰𝗮𝗻 𝘀𝗼𝗰𝗶𝗮𝗹 𝗳𝗲𝗲𝗱𝗯𝗮𝗰𝗸 𝗹𝗼𝗼𝗽𝘀 𝗮𝗺𝗽𝗹𝗶𝗳𝘆 𝘁𝗵𝗲 𝗲𝗳𝗳𝗲𝗰𝘁𝗶𝘃𝗲𝗻𝗲𝘀𝘀 𝗼𝗳 𝗖𝗹𝗶𝗺𝗮𝘁𝗲 𝗝𝘂𝘀𝘁𝗶𝗰𝗲 𝗔𝗰𝘁𝗶𝘃𝗶𝘀𝗺🔍?
Join us for an insightful talk on "𝗪𝗵𝘆 𝘀𝗼𝗰𝗶𝗮𝗹 𝗳𝗲𝗲𝗱𝗯𝗮𝗰𝗸 𝗹𝗼𝗼𝗽𝘀 𝗺𝗮𝗸𝗲 𝗮 𝗱𝗶𝗳𝗳𝗲𝗿𝗲𝗻𝗰𝗲 𝗳𝗼𝗿 𝗖𝗹𝗶𝗺𝗮𝘁𝗲 𝗝𝘂𝘀𝘁𝗶𝗰𝗲 𝗔𝗰𝘁𝗶𝘃𝗶𝘀𝗺." Our eminent Speaker, will share her expertise on how these feedback loops can amplify the voices of activists, foster inclusivity, and drive positive change in our society.
𝗝𝗮𝗻𝗶𝗻𝗲 𝗢'𝗞𝗲𝗲𝗳𝗳𝗲 🎙️🌍, an accomplished interdisciplinary scientist, holds a Bachelor of Engineering and an MBA from RMIT, Melbourne University, and Stockholm School of Economics. Her educational background has equipped her with a deep understanding of the intersection between climate justice and social feedback loops.
Join us Sharp:
𝐃𝐚𝐭𝐞: 27 July, 2023
𝐓𝐢𝐦𝐞: 9.30 am ET / 7 pm IST
𝐋𝐢𝐧𝐤: https://bit.ly/SHSC-27July
Don't miss this opportunity to engage with Janine, a passionate speaker dedicated to creating a sustainable future through climate justice activism. Save the date for this empowering webinar on climate change. 🌟💪
Stay tuned for this wonderful session.💫🙌🏻